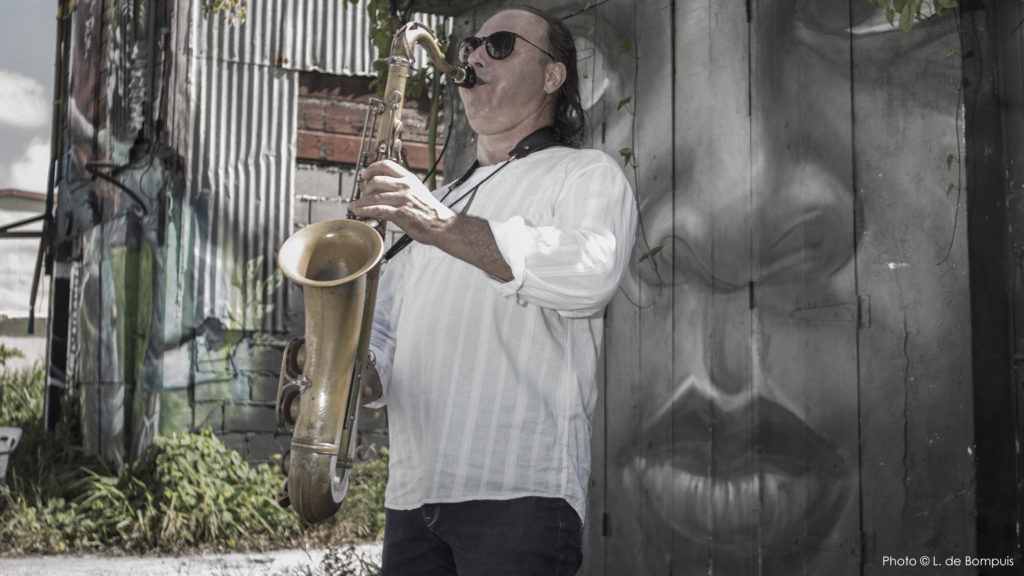 A saxophonist as well as a composer and an arranger, Jocelyn Ménard is originally from Canada. After studying in Montreal, New York (George Coleman) and Paris (Bernard Maury), he then plays with Jean Beaudet, jan Fréchette, Rémi Bolduc, etc…and participates to many festivals. In 1988 he settles in Guadeloupe (F.W.I) and starts teaching. He plays with André Condouant, Happy Lewis, Christian Amour, Charlie Chomereau-Lamotte, creates several big band projects (Big Band Mavounzy, Gwadloup Big Band…) and some for smallest bands (Men Art Jazz 4tet, An'nax, Guanada…) with Normand Deveault, Raymond Grego, Raymond d'Huy, Dominique Bérose etc.
In addition to participating in several Caribbean jazz records, he produced his first album "Men Art Work's" in 2001 with the participation of Alain Jean-Marie. The album was recorded in Montreal, for the Effendi label. In 1997, he opens his own music school, which hosts up to a dozen teachers. He also participates in Rico Toto's electro-ka project, performed by Mario Canonge and Paul Lay, and gets involved in theatre and music creations with Gilbert Laumord. Over the last few years he developed a sextet and a big band version of Gwanada, and presented it at Pointe-à-Pitre Jazz Festival in 2007 with Michel Cusson's participation.
His original compositions are gathered on Terre Mère, his latest album released in December 2012 and recorded in Paris, Guadeloupe and Montréal. Jocelyn tours his compositions in various formations, including a quartet in Paris with Mario Canonge. In 2013, he met up with the pianist again for a duo in Guadeloupe. His "Biguine & Jazz" project was selected for a CEDAC tour in early 2015. At the end of the year, he set up a new quartet with Jean-Michel Lesdel, Max Fontès and Joseph Casimir, with whom he toured the Lesser Antilles to play his compositions. Recently, Jocelyn Ménard set up a multidisciplinary artistic project, Mix Art, which combines music, dance, graphic and visual arts. Within this framework, and with the complicity of Joël Jernidier, he creates the show "Pwofési A Man Jàn" – the latter embodied by the singer Véronique Hermann-Sambin, and performs at the Sonis Cultural Centre in the summer of 2019. Finally, for the past two years, Jocelyn Ménard has been developing the repertoire of his Caribbean Jazz Group, which will be performing at Baiser Salé in Paris in Spring 2023.
Jocelyn's activities are also widely shared with Canada, where he regularly performs in addition to recording his albums. He can be heard playing with Rémi Bolduc, with the Julian Gutierez Group (2021). In the same year, he gave a masterclass at Laval University and performed with his Jocelyn Ménard Jazz Group. The following year, he was invited by Alain Bédard to participate in his Auguste Quartet, which pays tribute to Wayne Shorter. In early 2023, he takes part in Alain Bédard's JazzLab concerts. Most recently, he had his Gwanada Quintet play at Dièse Onze in Montreal (2023) before being invited by Jean-François Fabiano's group.
Markers
since 2020
Summer 2023: In late June, the Gwanada Quintet performs at Dièse Onze, and then Jocelyn will be invited by Jean-François Fabiano, who has been based in Quebec for a long time and has switched from drums to guitar and vocals. In August, he accompanies Sonny Troupé for the presentation of the album "Romance" in Guadeloupe.
The Caribbean Jazz Group performs at Baiser Salé in Paris in late April 2023. With Fabrice Devienne, Régis Thérèse, and Yoann Danier, they fill the Parisian club with two vibrant sets.
April 2023: Jocelyn Ménard accompanies Xavier Richardeau in Paris for the recording of his upcoming album to be released in December. Xavier invites him for two dates at Duc des Lombards.
In January 2023, Jocelyn welcomes Alain Bédard's JazzLab Orchestra to Guadeloupe. The Canadian group initiates an exchange that will materialize at the end of the year with the coming of the Caribbean Jazz Group to Montreal. In the meantime, JazzLab is inviting Jocelyn to the five concerts in guadeloupe, at the Centre Culturel Sonis and Diamant Créole, among other venues.
Summer 2022: Jocelyn Ménard participates in Alain Bédard's Auguste Quartet for a Tribute to Wayne Shorter, which takes place in Montreal in August, first at Bar Sainte-Angèle, then at Dièse Onze.
April 2022: Jocelyn accompanies Xavier Richardeau for two dates at Duc des Lombards in Paris.
August and September 2021: Jocelyn is invited by Julian Gutierez's trio for two concerts in Sherbrooke. He follows up with a concert by the Jocelyn Ménard Jazz Group in Quebec, and then a masterclass at Laval University.
Starting in 2020, the Caribbean Jazz Group undergoes a new lineup with Klod Kiavué, Leedyah Barlagne, Régis Thérèse, Sonny Troupé, and Jean-Michel Lesdel.
from 2015 to 2019
First performances of the new project "Only Monk" still in the making (2019)
Residence for the creation of the show "Pwofési A Man Jàn", and presentation in July 2019 on the stage of the Sonis Cultural Centre in Les Abymes.
Creation of the Mix Art project, and shows in Guadeloupe (Robert Loyson Hall, Sonis Cultural Center) – 2018
Accompanies Jean-Michel Lesdel during his appearance at IlÔJazz at the end of 2017.
The Jocelyn Ménard Jazz Group closes the 2017 edition of the Terre de Blues festival in June.
The Jocelyn Ménard Biguine & Jazz project is on tour in February 2015 in Guadeloupe and Martinique with CEDAC.
In October 2015, organization of a one-week SaxCamp in Guadeloupe.
The Jocelyn Ménard Caribbean Jazz Group quartet is on tour in October and November 2015 in the Lesser Antilles with the Alliance française. Concerts in Saint Lucia and Barbados.
from 2010 to 2014
During the month of August 2014, performances of "L'épreuve de Virjilan" at the Avignon Festival, with the company Siyaj & Gilbert Laumord.
Concerts in quartet in Paris, with Mario Canonge, and duo with Mario Canonge for a concert at the Université Antilles Guyane (2013)
Also in 2013, the show "Chante moi un Conte, Conte moi une Chanson" was invited by the University of Virginia, then toured under the aegis of the Alliances françaises in the Caribbean and South America.
The album "Terre Mère" was released in December 2012. Following this, Jocelyn performed at the inaugural concert of the IloJazz Festival in Pointe-à-Pitre.
In the theatre with the Siyaj company and Gilbert Laumord for "Chante moi un conte, conte moi une chanson"; tours in France, Cuba, Guadeloupe and Martinique follow in 2011 and 2012.
Accompanies singer Jane Rogers under the direction of Christian Amour. Participates in the Anguilla Jazz Festival (2010) and the Lamentin Jazz Festival (2011).
from 2005 to 2009
Obtain in Montreal in 2007, the state diploma in jazz saxophone.
Moves the trio Guanada to the sextet Gwanada
At the end of 2007, presents the big band version of Gwanada, increased by seven blowers and with the participation of Michel Cusson. Performed at the Pointe-à-Pitre Jazz Festival at the end of the year.
Participates in Rico Toto's Moundjaka project. Plays with this band at the Festival Terre de Blues de Marie-Galante in 2008.
from 2000 to 2004
First album Men Art Work's produced in 2001, with Alain Jean-Marie (pno), Martin Auguste (dms) and Georges Mitchell (b)
Accompanied singer Charito on a Japanese tour in the summer of 2000 under the direction of Sylvain Gagnon
With Alain Jean-Marie, plays at the Montreal Festival in 2002.
until 1999
Invited by François Théberge to play in his Medium Band (Festival Au fil de l'Oise in 1999)
In 1996, he formed the trio Guanada with Normand Deveault (pno) and Charly Chomereau-Lamotte (perc). Several festivals in Guadeloupe and Martinique. Eponymous album in 1999.
Plays on the album Human Cause by trumpet player Happy Lewis (1997).
With the Mozaik Jazz Quintet at the Pointe-à-Pitre Jazz Festival in 1988
Continues to study with Bernad Maury (Paris) and participates in master classes led by Dave Liebman, Arturo Sandoval, Gonzalo Rubalcaba and Max Roach.
Directs and arranges for the Big Band Mavounzy, at the initiative of Christian Amour.
Settles in Guadeloupe in 1988
Study music in Canada. At CEGEP de Drummondville, then at Concordia University in Montreal. Participates in the Montreal, Ottawa and Toronto jazz festivals. In 1987, travels frequently to New York to study with George Coleman.